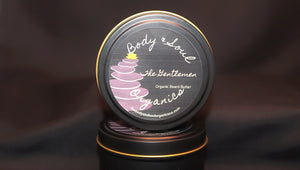 "The Gentleman" Beard Butter is loaded with a nourishing combination of butters and oils to tackle beard dandruff, keep your beard shiny and fresh and help it to grow into the "beard gang" beard you've been working towards without leaving it heavy or sticky.
Woodsy, fresh and clean scented. 
Contains shea butter, mango butter, jojoba, coconut, vitamin E, avocado, grape seed and calendula oils.