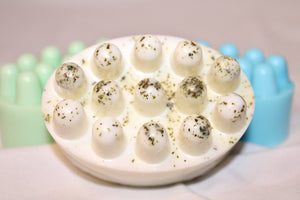 Stuffy? Need to clear your sinuses? Dealing with allergies?
Our Breathe Massage Body Bar will open you right up! 
This powerhouse soap contains eucalyptus, peppermint, basil, tea tree and rosemary essential oils. This combination of oils is known to clear coughs, loosen congestion, alleviate allergy symptoms and fight respiratory infections.
 So turn the shower temperature up and let this soap go to work!