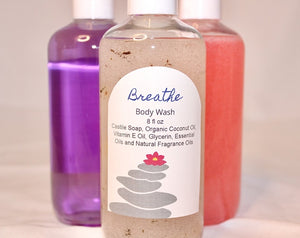 Our pure Castile Body Wash uses natural oils with relaxing scents for the ultimate total body cleansing experience.
Our Breathe Body Wash contains eucalyptus, peppermint, basil, tea tree and rosemary essential oils. This combination of oils is known to clear coughs, loosen congestion, alleviate allergy symptoms and fight respiratory infections.
Gentle and versatile enough for face and body cleansing. Infused with coconut and glycerin oils to draw and retain moisture in your skin long after shower time is through.
This wash is everything your skin craves.